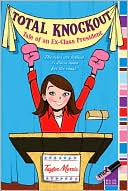 [description from B&N]
There's nothing ordinary about Lucia Latham - she gets straight A's, she's been middle school Class President for two years running and she's a great boxer - nothing is more fun than a good old sparring match with best friend Cooper, especially since she usually wins. In short, there are few things Lucia tackles that don't turn out exactly how she wants them.
So at the beginning of her 8th grade year, Lucia has no reason to believe that things won't continue being easy - until she sticks her foot in her mouth in a HUGE way. Then it seems her carefully constructed world is crashing down around her. Can she regain her super star status or will she be forced to lower her expectations?
Review:
-gasp-
Another
review of a MG book? The sky is falling and cows are flying, I know. (Yes, I meant to say cows, not pigs. Cows flying would be much more impressive.) But I'm liking the MG I've been reading. Well I've only read two in the past few weeks, but I've like them both.
This book has only convinced me more that Taylor Morris secretly has the brain of a teenager. Or she's got one locked up in a dungeon somewhere that writes these books for her, because she pulled of Lucia's voice, and everyone else's, very well. Lucia acted like a teen. She reacted like a teen. She sounded like a teen. She got very mad, just like a teen. So did everyone else, from her best friend Cooper to her sort of best friend Melanie. Her parents were also very real too- they were annoying but loveable and made you want to just bang your head against the wall whenever they fought.
Also, the plot was very light and fun. I also like school politics books because my middle school didn't have them and my high school's weren't really elections for anything big, so I feel like I missed out on watching things get heated and watching people try to get votes. I can, however, live the politics through this book even though the actual election wasn't very heated. But after the election there was plenty of drama and sort of scandalous things to make things exciting. And there was also boxing, a sport that I don't believe I've read any books about or read any where boxing is very present. But the boxing in here was pretty spiffy.
So, um, yeah, good book. I really liked it. Ms. Morris knows how to write some awesome characters and fun plots.
8.5/10