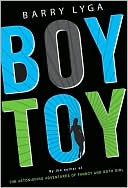 Josh Mendel is a seemingly perfect guy: straight As for years, a math genius awaiting for responses from the Holy Trinity of colleges- Stanford, MIT, and Yale- and the best baseball player in the school. But Josh has a secret, and
everyone
knows what it is. Josh was sexually abused at age 12 by Evelyn Sherman, his old history teacher, and almost sexually abused his friend Rachel himself. Five years later, Josh is still going to therapy after the trial and Evelyn's being sent to jail and, he's still having "flickers" of his past. But when Eve gets out of jail early, Josh becomes more of an emotional wreck, living in fear that Evelyn will pop up at any moment. He also has to deal with his mom and dad's deteriorating relationship, college, and the return of Rachel. She's determined to be back in his life and make him realize what exactly he feels about Eve and himself.
Review:
I've heard a lot of praise for Barry Lyga's books, so I was quite excited to read this book. I now understand all the praise.
I really enjoyed that this book was about a boy getting sexually abused. Not that he was getting abused, but that the book was about a boy and not a girl. Is it just me, or are there not a lot of books where boys are getting abused? The majority of time it's a girl, so it was refreshing, I guess, to have the story be about a boy. Moving on.
Like I said in the description, Josh is seemingly perfect. The guy has gotten nothing but As since the third grade and he is
the
baseball player at his school. But the good thing is that he's not. He's got some anger issues (who wouldn't if people kept staring at him and making remarks about him and Eve?) and obviously he's kind of been scarred for life because of what happened with Eve.* He tells the entire story of what happened and in the present, it's easy to see just how much its screwed him up. He, along with the other characters, really is an interesting, well developed character, despite his seemingly perfectness. He grows up a lot in the book and finally figures out that despite his past, he can move on, be happy, and be himself. At the end, he finally knows what he wants.
As implied in the above paragraph, Josh switches a few time between the past and the present. This was a bittersweet thing for me. I did like learning the entire story, but there was a lot of space between time periods. There would be about 100 pages of the present, then about 100 of the past, then back to present, and then back to the past. I would rather have past-present or present-past-present, but I don't think the book would have worked as well as it did if it written like that. Doesn't mean I have to like it though.
You can bet that I will be reading more of Barry Lyga's works in the future.
9/10
for
Boy Toy.
*Can I just say that I wanted to
strangle
Eve for the whole book? I seriously wanted to murder her or grab a stick and hit her with it repeateedly. She made me so mad. I hated her way more than I've ever hated a character (except for Eamonn in
Child in the Prophecy.
Don't get me started on him though). I think I might've actually yelled out loud at one point because I wanted to jump in to the book and beat her with a very large stick or rock or something that would cause her immense pain.