Yes, ANOTHER IMM from me. Shocking, I know.
In My Mailbox was started by Kristi of
The Story Siren
, and inspired by Tapir Alea of
Pop Culture Junkie
.
All descriptions from amazon unless otherwise noted:
In the mail:
Liar
by Justine Larbalestier
Micah will freely admit that she's a compulsive liar, but that may be the one honest thing she'll ever tell you. Over the years she's duped her classmates, her teachers, and even her parents, and she's always managed to stay one step ahead of her lies. That is, until her boyfriend dies under brutal circumstances and her dishonesty begins to catch up with her. But is it possible to tell the truth when lying comes as naturally as breathing? Taking readers deep into the psyche of a young woman who will say just about anything to convince them—and herself—that she's finally come clean, Liar is a bone-chilling thriller that will have readers see-sawing between truths and lies right up to the end. Honestly.
---I've already read this one, but got the shiny finished copy in the mail this week. It's a pretty good book. Review coming a bit closer to the release date!

My Invented Life by Lauren Bjorkman

With Roz and Eva everything becomes a contest—who can snag the best role in the school play, have the cutest boyfriend, pull off the craziest prank. Still, they're as close as sisters can be. Until Eva deletes Roz from her life like so much junk e-mail for no reason that Roz understands. Now Eva hangs out with the annoyingly petite cheerleaders, and Roz fantasizes about slipping bovine growth hormone into their Gatorade. Roz has a suspicion about Eva. In turn, Eva taunts Roz with a dare, which leads to an act of total insanity. Drama geeks clamor for attention, Shakespearean insults fly, and Roz steals the show in Lauren Bjorkman's hilarious debut novel.
---Yay realistic fiction! Super excited to read this one.
The Line
by Teri Hall
An invisible, uncrossable physical barrier encloses the Unified States. The Line is the part of the border that lopped off part of the country, dooming the inhabitants to an unknown fate when the enemy used a banned weapon. It's said that bizarre creatures and superhumans live on the other side, in Away. Nobody except tough old Ms. Moore would ever live next to the Line.
Nobody but Rachel and her mother, who went to live there after Rachel's dad died in the last war. It's a safe, quiet life. Until Rachel finds a mysterious recorded message that can only have come from Away. The voice is asking for help.
Who sent the message? Why is her mother so protective? And to what lengths is Rachel willing to go in order to do what she thinks is right?
---Tenner book tenner book! I am INSANELY excited to start this one. I got this in the mail as part of
1 ARC Tours
.
I also got Chapter One of Holly Black's upcoming book
The White Cat
from her at the Spiderwick event I went to the other day. (If anyone wants to see pictures from that event, let me know.) The chapter was AWESOME. Cannot wait for the rest of the book.
Bought:


Tricks

by Ellen Hopkins

Five teenagers from different parts of the country. Three girls. Two guys. Four straight. One gay. Some rich. Some poor. Some from great families. Some with no one at all. All living their lives as best they can, but all searching...for freedom, safety, community, family, love. What they don't expect, though, is all that can happen when those powerful little words "I love you" are said for all the wrong reasons.
Five moving stories remain separate at first, then interweave to tell a larger, powerful story -- a story about making choices, taking leaps of faith, falling down, and growing up. A story about kids figuring out what sex and love are all about, at all costs, while asking themselves, "Can I ever feel okay about myself?"
A brilliant achievement from
New York Times
best-selling author Ellen Hopkins -- who has been called "the bestselling living poet in the country" by mediabistro.com --
Tricks
is a book that turns you on and repels you at the same time. Just like so much of life.
---I'm reading this one now, and it's good so far. But it's by Ellen Hopkins, so of course it's good.



The Devouring

by Simon Holt
[description from B&N]
When Reggie finds an old journal and reads about the Vours, supernatural creatures who feast on fear and attack on the eve of the winter solstice, she assumes they are just the musings of some lunatic author. But soon, they become a terrifying reality when she begins to suspect that her timid younger brother might be one of their victims.

Risking her life and her sanity, Reggie enters a living nightmare to save the people she loves. Can she devour own her fears before they devour her?

Bone-chilling, terrifying, thrilling...what are you waiting for?
---I've had the sequel to this one, so I bought it so I will be able to read the sequel. Sounds pretty creepy. Creepy is good.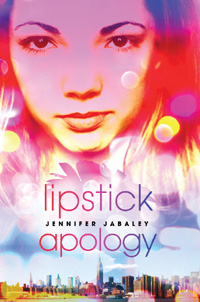 Lipstick Apo
l
ogy
by Jennifer Jabaley
Sometimes a good-bye is just the beginning…
When Emily Carson's parents die in a plane crash, she's left with nothing but her mother's last words scrawled in lipstick on a tray table: "Emily, please forgive me."
Now it's fall and Emily moves to New York City— where she attracts the attention of two very different boys: the cute, popular Owen, and her quirky chemistry partner, Anthony. With the help of some surprising new friends, Emily must choose between the boy who helps her forget and the one who encourages her to remember, and ultimately heal.
Debut author Jennifer Jabaley has written a wonderful, feel-good romantic comedy with real emotional depth. Full of lovably wacky characters,
Lipstick Apology
is a heartwarming story about the true meaning of forgiveness.
---I've heard great things about this book, so I'm super excited to read it.
Will Grayson, Will Grayson
by John Green and David Levithan
---IT IS AN AMAZING BOOK, OH MY GOSH. Seriously, I loved it. SO AMAZING.